View this email in your browser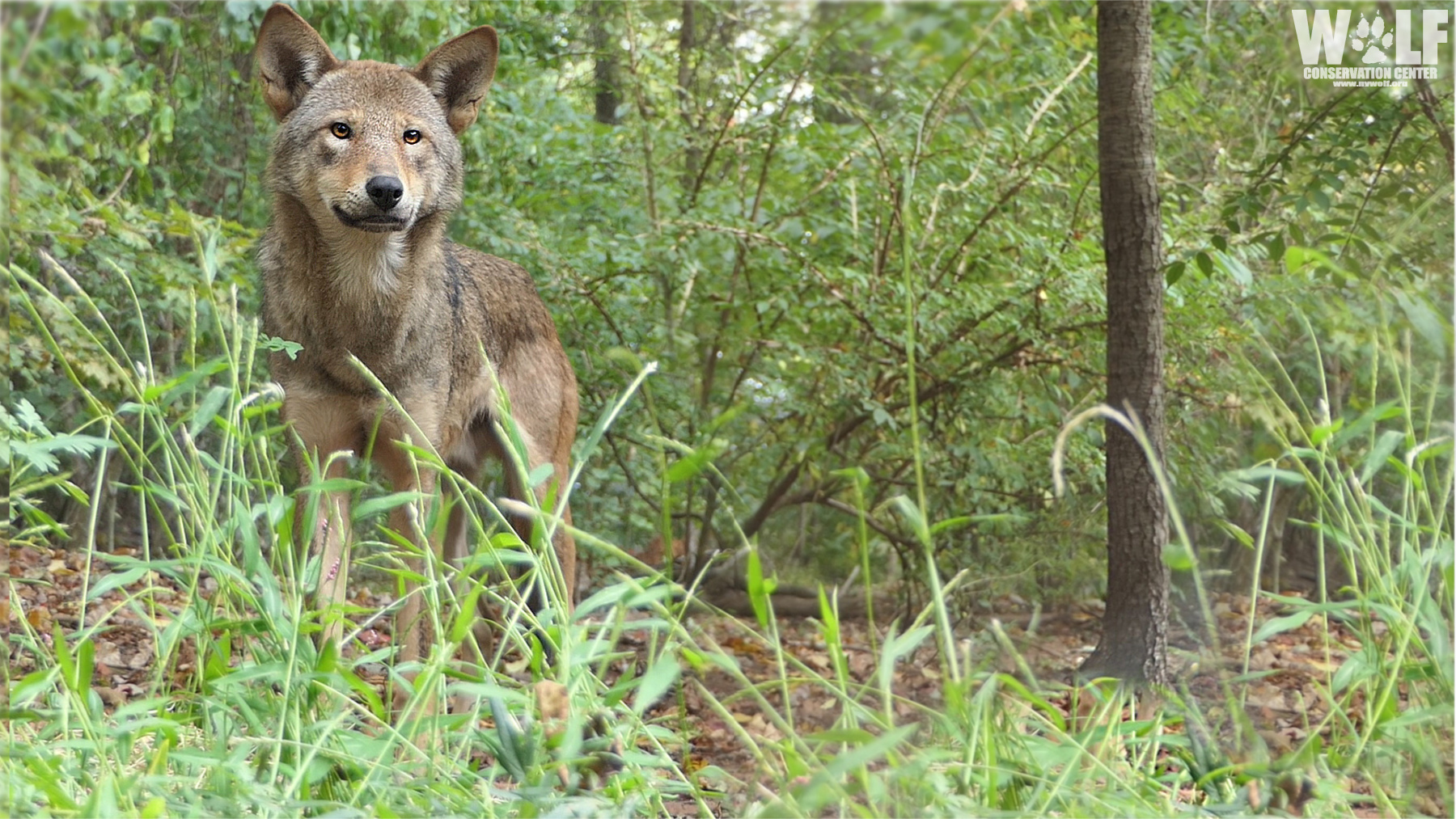 FOLLOW US:




Rare Red Wolf from the Wolf Conservation Center Released to the Wild
History was made on April 30 and May 1, 2021, when four red wolves from the Wolf Conservation Center, Endangered Wolf Center, and Wolf Haven International were released in North Carolina by the U.S. Fish and Wildlife Service (USFWS). Quite excitingly, red wolf Deven (M2236), born to parents Jack and Charlotte at the WCC in 2018, was chosen to be among the released wolves!
In an effort to increase both the genetic diversity and the overall population of wild red wolves, four red wolf pups from the Akron Zoo were also cross-fostered to a red wolf female in the recovery area. Cross-fostering is a coordinated event where captive-born pups are introduced into a similar-aged wild litter to be raised by surrogate parents.
An Exciting Future for Red Wolf Deven
Earlier this year, only ten red wolves were known to remain in the wild the lowest population count since captive to wild red wolf releases began in 1987. Moreover, for the first time in nearly three decades, no pups were born to the wild population in 2019 and 2020. Hopefully, the release of Deven and the other seven wolves will serve as a catalyst for the growth of the wild population.
"The WCC is thrilled that red wolf Deven, born in New York and affectionately named by supporters, is a part of this vital recovery mission," said Maggie Howell, Executive Director of the Wolf Conservation Center. "Deven is now a living, breathing part of the southeastern landscape, and his story will help inspire children and adults alike to care about red wolves and support the active efforts to save them."
Collaborative Efforts and Court Orders Result in Progress for Red Wolves
The successful recovery of an endangered species requires coordination and partnership among government agencies, nonprofit organizations, scientists, community partners, and, when necessary, also requires litigation on behalf of the species.
In November 2020, the Southern Environmental Law Center (SELC) sued USFWS for violations of the ESA connected with the agency's new policies that prohibit proven management strategies to recover the world's only remaining population of critically endangered red wolves. In January 2021, U.S. District Court Judge Terrence Boyle ruled that USFWS must develop a plan by March 1, 2021 to resume the successful practice of releasing captive red wolves into the Red Wolf Recovery Area in North Carolina. These historic releases are a result of tireless advocacy efforts, but were also made possible with the generous donation of flights on private planes provided by Aero Charter, LightHawk, and Pilots To The Rescue.
Most importantly, these releases would not have happened without YOU! Public support and advocacy on behalf of red wolves have given these red wolves a future many only dream of a chance to live as wild wolves.
As you read this email, we hope you take a moment to close your eyes and imagine the exhilaration felt by red wolf Deven as he breathes in the eastern North Carolina air and listens to the calls of warblers and wild wolves. He's finally home.
| | |
| --- | --- |
| Support the wolves you love. | |